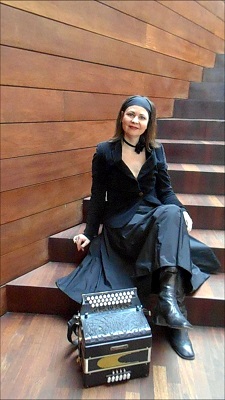 Perles Fines. Refreshing, heartwarming and full of atmosphere. Introspective and swinging, with a laughter and a tear, and above all full of soul.

'Rebecca Stradiot shows herself as a born narrator and performer as well as a devilishly good musician on that diatonic accordion full of surprises', according to Cultural Centre Hasselt .

On special request of her audience she selected the most beloved texts and melodies from her own shows.

Timeless pearls are braught to life, going from poetry to proza, from tango and waltz to chanson, from Herman de Coninck to Isabel Allende, from Geert De Kockere to Frank Boeijen and Jacques Brel, from Amélie Poulin to Didier Laloy and Cirque du Soleil.

Enjoying what's big in small things and love in all it's flavours are the leitmotif, in word as well as in sound. As the language of the heart is the only true one that matters.

And for those who were there those days: a rose won't be absent...


Photo © Monique Van Nuffel